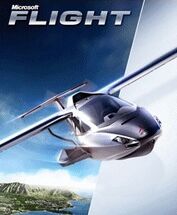 Microsoft Flight Simulator (often abbreviated as MSFS or FS) is a series of flight simulator programs, marketed as video games, for the Microsoft Windows operating system. It is one of the longest-running, best-known and most comprehensive home flight simulator programs on the market. It was an early product in the Microsoft application portfolio and differed significantly from Microsoft's other software, which was largely business-oriented. At 25 years it is the longest-running software product line for Microsoft, predating Windows by three years. Microsoft Flight Simulator may be the longest-running PC game series of all time. In January 2009, it was reported by PCWorld that Microsoft closed down the ACES Game Studio, which was the department responsible for creating and maintaining the flight simulator series. Bruce Artwick began the development of the Flight Simulator in 1977. His company, subLOGIC, initially distributed it for various personal computers. In 1981, Artwick was approached by Microsoft's Alan M. Boyd who was interested in creating a "definitive game" that would graphically demonstrate the difference between older 8-bit computers, such as the Apple II, and the new 16-bit computers, such as the IBM PC, still in development. In 1982, Artwick's company licensed a version of Flight Simulator for the IBM PC to Microsoft, which marketed it as Microsoft Flight Simulator 1.00.
Gallery
Ad blocker interference detected!
Wikia is a free-to-use site that makes money from advertising. We have a modified experience for viewers using ad blockers

Wikia is not accessible if you've made further modifications. Remove the custom ad blocker rule(s) and the page will load as expected.