Northern Tip

Aerocache Info:

Name
Northern Tip
Location
Alaska
Difficulty
Points XP
2000 XP
Hidden At
July 23, 2012
Northern Tip is an Aerocache located in Alaska. This Aerocache is on the northernmost point of Alaska.
Hint:
The northernmost tip of Alaska, about ten miles northeast of the city of Barrow.
Map: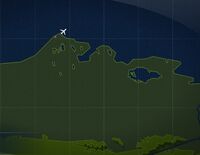 Ad blocker interference detected!
Wikia is a free-to-use site that makes money from advertising. We have a modified experience for viewers using ad blockers

Wikia is not accessible if you've made further modifications. Remove the custom ad blocker rule(s) and the page will load as expected.